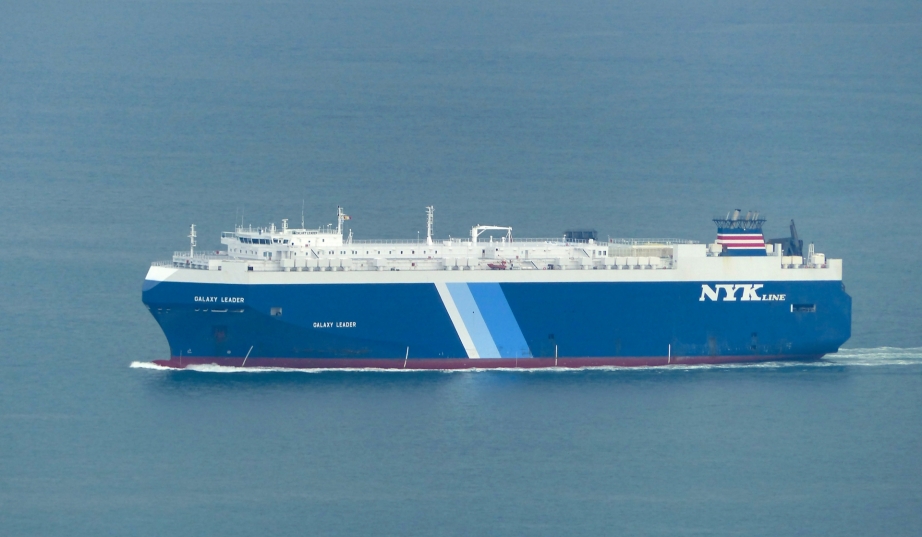 Greetings, this is Hideharu from CardealPage.
I am pleased to announce our new service-Booking and Inland Transport Service to Africa.
We welcome any vehicles – not only vehicles sold on CardealPage but also the ones you sold to buyers directly.

Why choose our booking service to Africa?
Timely delivery likely results in greater customer satisfaction.
We ensure to book a ship that arrives earliest at the destination.
⇒If you choose a wrong ship, your customers may not come back to you.
Save your freight! - CardealPage will bear some part of shipping cost.
⇒Details to follow.
Cut your courier cost! DHL for only 2,000 yen / vehicle
⇒ All documents in one-go to CardealPage Document Centre in your customers' country.
No hassle-We will check S/O for you
⇒ We will make your life easier.
Sell with confidence in secure delivery-Even non-CardealPage vehicles can utilise our inland transport network in Africa.
⇒Online quote and order form will be available soon.
As such, you will benefit from our booking service to Africa.

Frequently Asked Questions
Please find answers below for frequently asked questions.

What do you mean "CardealPage bears some part of freight"?
When the vessel left Japan, the journey of your vehicle is just a beginning. Under C&F (CFR) sale, you may feel like your responsibility ends at shipment. However, your customers will have to undergo number of processes until they can drive the vehicle.
1. Marine insurance (For countries where the insurance cannot be arranged from Japan)
2. Custom clearance
3. Payment of import tax
4. Delivery at the destination port
5. Custom clearance and transport to the country of your customer (if no direct shipment is available to the country)
6. Registration of the vehicle
Finally, the car is ready to be driven on the road.
CardealPage supports the whole journey of your vehicles – not just booking, we continue to care after the ship leaves Japan.
The reason why we can offer you a discounted freight is because we apply profit from these import supports to the freight costs.

Which ports/countries will you book shipment to?
We will book shipment to following ports:
・Mombasa / Kenya
・Dar es Salaam / Tanzania
・Maputo / Mozambique
・Durban / South Africa

What exactly we need to do?
We will book shipment for you. However, you will still need to process custom clearance in Japan with your preferred forwarders.
Mostly, it is same as your usual communication with booking agents and forwarders.
But there are three differences between your usual export and CardealPage logistics service to Africa.

1. Request booking to CardealPage
Once you engaged with this service, we will send you a CardealPage Shipping Instruction ("CDP S/I").
It's simple. Please send the CDP S/I together with the same set of shipping documents to the forwarder.
Now your booking through CardealPage has been completed.
Please do not forget to "cc" us in your emails to forwarders and attach following documents.
・Invoice
・Your S/I
・Export certificate
・(in addition to above) CDP S/I
You will be able to save your freight cost by booking with CDP S/I (aka "freight discount voucher"!)
(It may sound imprudent to other exporters or forwarders… oh well.)

2. Paperless B/L
We do not send you an original B/L. As you may not be familiar with a type of B/L called "House B/L", we will issue this at the destination ports in Africa. For efficiency, we aim paperless as much as we can and only send you an electronic copy of B/L by email.
Not to worry-This House B/L is still valid to claim back recycling tickets and other general purposes.
Our agent in Africa will immediately hand over the B/Ls to your customers if they have fully paid in advance.
Our service is also available to customers on partial payments but you will need to inform us of their payment terms (eg. 50% before shipment, 50% after shipment) at the time of engagement*. This is to ensure that we will only release B/Ls and other shipping documents to the customers when the balance payment is made. (*Only at Mombasa and Dar es Salaam)
Please remember to advise us immediately to release the vehicle once it is fully paid otherwise parking/storage fee will be charged based on length of time from the date of arrival.

3. Send documents to our Tokyo office
There is no need to courier shipping documents internationally. Please send them to CardealPage Tokyo head office.
If you have sold multiple units and enclose these documents altogether, you will be able to save mailing costs further.
These are three differences of our service from your usual export process.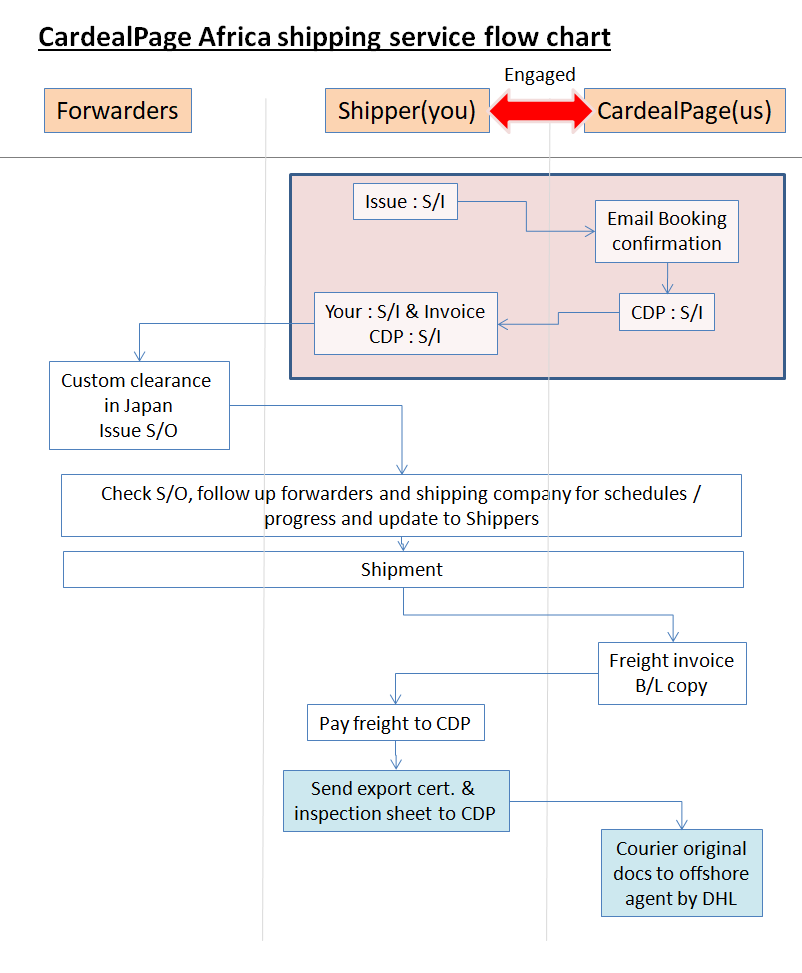 Do you nominate specific forwarders?
You may choose any forwarders unless you have entered exclusive agreement.
If you are currently using any shipping agents or booking brokers, please stay on them. It will not affect your payment to the forwarder. If you are using other services, for example, photographs, inspections and other logistics service please pay their invoice as a normal course of business. Only change is that your forwarder (Heinaka) will make booking through CardealPage.
As mentioned above, our booking and inland transport service to Africa is sensational and benefitable to both you and your customers.
It is difficult for us to explain the details and actual procedures of this service on this blog. However, should you have any questions, please do not hesitate to contact us. We are more than happy to assist your concerns.
CardealPage TEL: 03-5937-4544
Contact us
Please read:
Terms and conditions
Brochure for CardealPage Booking and Transport Service to Africa